Motivational Speaking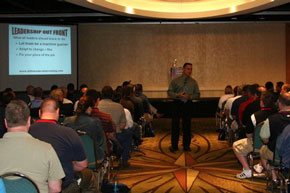 Our Motivational Speaking Seminars average 60-minutes with a question and answer period. We also provide an optional 30- minute role-play session. Topics include leadership development, conflict resolution, risk and crisis management, and many more. Our seminars are guaranteed to motivate any group. The question and answer session allow your organization's key leadership to gain insight and guidance from leaders who have led men and women in combat and other critical situations.
A strategic value for professional organizations is JB's comprehensive "Warrior Within" briefings that entail seminars with a follow-on question and answer period. These seminars will put into perspective real-time leadership traits taught and used by elite military forces. JB will congeal the standards necessary to be an elite special operations soldier and an elite professional. These briefings will inspire, motivate and educate your team on how to be competent and confident while focusing their energies on the winning edge to accomplish your core-goals and continue success in their field.
Key Benefits
Develop the ability to "lead by example" and inspire others.
Motivate employees to love their jobs and take "ownership" of what they do.
Learn to be a Warrior, Winner and Leader!
Find the success in every role from Warrior to Diplomat!
Capabilities
Our speakers will customize a program for your organization, which fits your needs and requirements. The following is a list of our most popular areas of focus:
"Win-Win": How managers and supervisors may inspire and motivate their employees under their charge and increase productivity.

Decrease sick days and employee absences.
How to motivate employees to love their job and what they do for the organization.
Teaching employees "ownership" in what they do.

Conflict Resolution: How to handle conflicts and disagreements in the work place.

Discovering that conflict is a natural part of leadership.
How to turn negative conflict into positive change.
Learn how to create an environment where constructive criticism is accepted, however the ultimate decision of the leader is always respected.

Stay Alert – Stay Alive: How to stay focused of potential threats and disasters in today's changing world.

Staying vigilant without changing your life.
Don't ever be afraid.
Stay focused and calm, even in emergencies.