Experience
About Us
We are an elite organization of military, law enforcement, private security and business professionals. Our military team members come from backgrounds ranging from Special Operations to Military Intelligence to Military Police. Our law enforcement contingent consists of detectives and police supervisors from elite units, such as the NYPD's Organized Crime Control Bureau and other special units. Our business professionals and private security managers have managed operations at collegiate sports complexes, corporate offices of Fortune 500 companies, research and development facilities, government offices, and major transportation facilities. All of our consultants are experienced leaders and instructors in fields that demand sound and timely decisions in high stress environments.
Each member of our staff is a leader in the military, athletic, business or public safety field. Therefore, they all have experience in making critical and timely decisions in crisis situations. Our consultants have spent their careers training leaders in military and law enforcement. Now, this elite training is available to you and your organization.
Goals
To provide the best service possible.
To design programs and training that are unique for each client.
To exceed our clients' expectations.
Our Expertise
Elite Leadership Training provides leadership and team-building exercises and scenarios at your location or at an extensive training area. Each program is custom designed to fulfill your organizations needs and requirements. Let our staff work with you to develop a plan.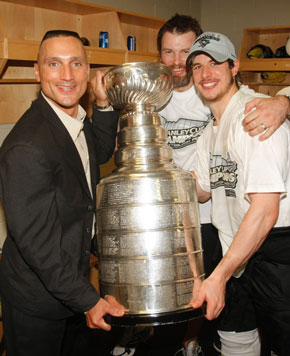 JB Spisso with 2009 Champions Pittsburgh Penguin's star Sidney Crosby, holding the coveted Stanley Cup!