Premier Outdoor Team Building Event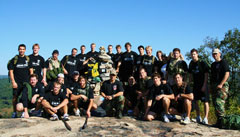 Realistic yet challenging scenarios, which require groups to work together to achieve a common goal or purpose. This process facilitates development of group compatibility, problem-solving techniques, and conflict resolution skills; while also improving morale and motivation within the team. These exercises are designed so that group members may not accomplish the task on an individual basis. Each scenario has a clearly defined objective, which provides the group with a sense of accomplishment once the objective is reached.
Key Benefits
Physically and mentally challenging that develops teamwork and trust.
Exercises are based on proven methods derived from athletics, business and the military.
Training may be conducted at your facility or at our extensive training area.
Capabilities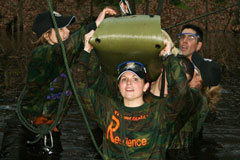 Our trained and experienced professionals will provide training scenarios, which are rewarding and develop team cohesiveness. This is not the typical recreational event that many other trainers call team building. We utilize physically and mentally demanding Special Operations scenarios, which require every member of the group to work together. Yes, these scenarios are tough, therefore they are more rewarding than the "group fun day" that other organizations are marketing as team building.
If you want to experience a challenging and rewarding exercise then contact us for more info.